Mindy Support is Announcing Its Upcoming Business Trips For The Spring To Meet With Current And Prospective Clients
Mindy Support is proud to announce that our top management team will be visiting the US and Germany to meet with clients and prospects and participate in conferences. Evgenia Khimenko, CEO and Alina Koval, Head of Sales would be happy to meet with you and discuss your data annotation needs.
Business Meetings in the USA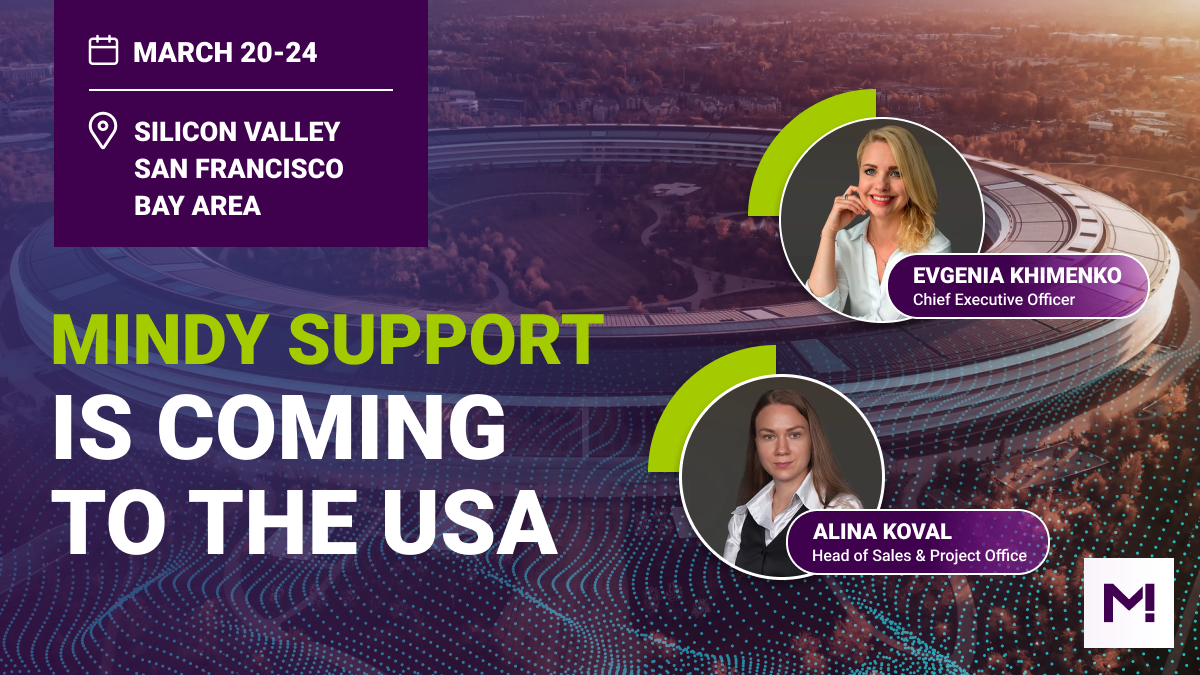 Mindy Support is happy to announce that our senior management team is coming to the US! Evgenia Khimenko, CEO, and Alina Koval, Head of Sales & Project Office, will be meeting with clients and prospects in San Francisco and Silicon Valley (Cupertino, San Jose, Santa Clara, Sunnyvale, Mountain View) on March 20 – 24. 
This is a unique opportunity to meet with leading industry experts and get all of your questions about data annotation answered. While data annotation may not seem like a high-priority task, if it's not done right, it could derail your project and cause significant delays. Therefore, if you are in the market for a data annotation provider to perform QA tasks or simply give you a quote, be sure to contact Evgenia and Alina directly. 
Evgenia and Alina would be happy to share with you some exciting projects Mindy Support is currently working on or recently completed. This includes projects in the automotive, agriculture, security, manufacturing, construction, and other industries. Send Alina and Evgeniya a note directly or at [email protected] if you would like to arrange an appointment or just have a small talk or a cup of coffee. See you in San Francisco and Silicon Valley! 
Participation in the Tech.AD, Berlin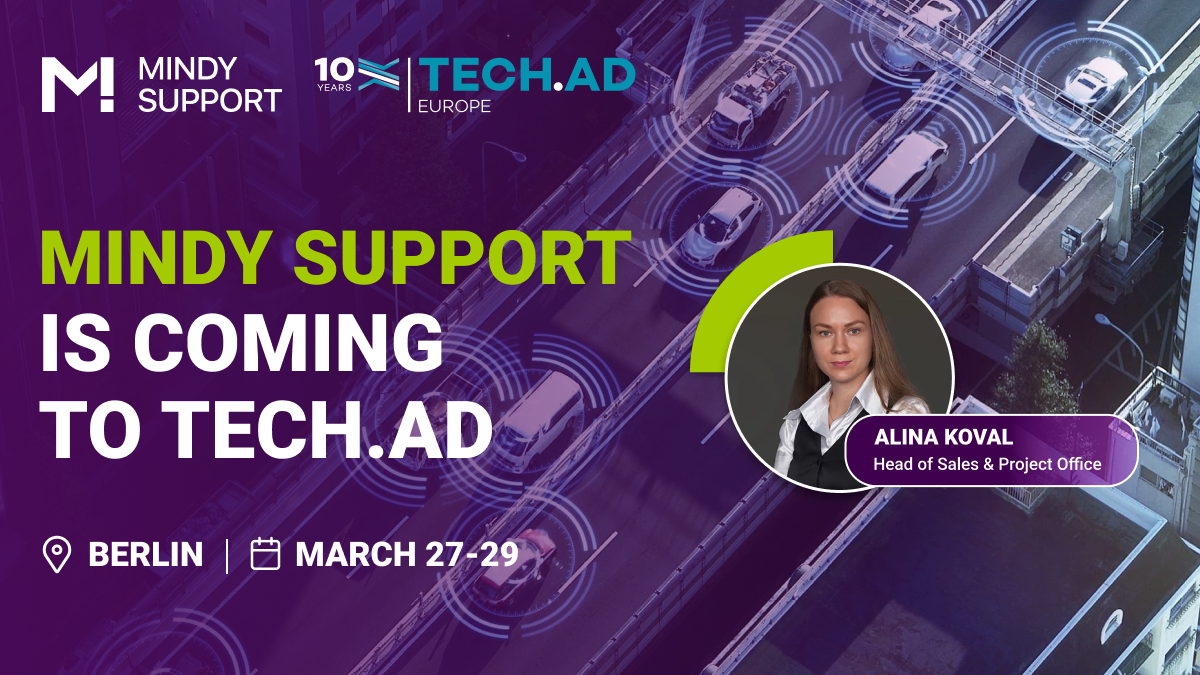 In addition to taking part in the trips to Silicon Valley and San Francisco, Alina Koval will also participate in the Tech.AD conference  held in Berlin from March 27-29. This is an award-winning AD & ADAS conference designed to bring advanced engineers & automotive experts from OEMs, Tier Ones, suppliers & leading research institutes to the next level. Lots of companies who are working on the future of ADAS, AI/ML/DL, sensor and perception technologies, software architectures, or any other area of autonomous driving will be participating in this conference. 
Alina Koval would be happy to meet with fellow participants and share Mindy Support's experience with data annotation for the automotive industry. If you would like to meet with Alina at the Tech.AD conference, please send her a message directly.
Business Meetings in Germany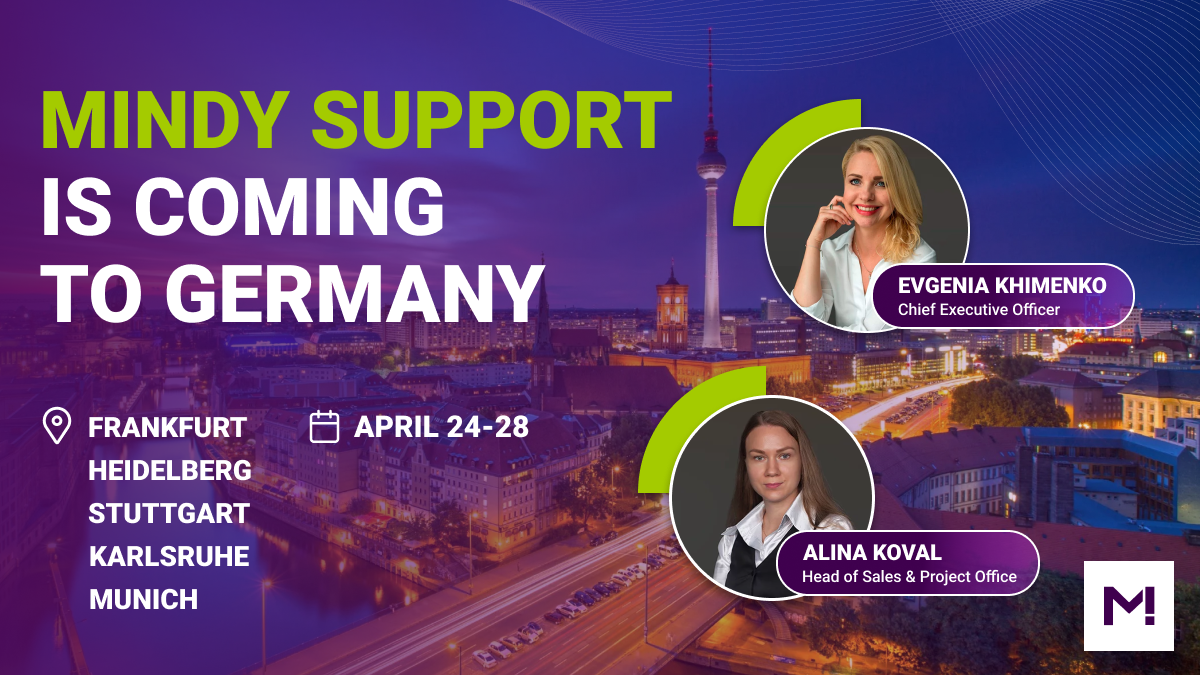 To top off Evgenia's and Alina's round-off meetings with clients and prospects, they will also be in Stuttgart, Heidelberg, Karlsruhe, Frankfurt, and Munich from April 24-28 as the CEO and Head of Sales & Project Office of one of the largest data annotation providers in Europe, Evgenia, and Alina would welcome the opportunity to share their experience and expertise in data annotation. If you are working on a project that would require data annotation, this would be a great chance to meet with industry veterans and learn about the importance this work plays in the actualization of AI and ML projects. 
If you would like to meet with Evgenia or Alina, please send them a message directly on LinkedIn. It is better that you schedule a time as soon as possible since their schedules will fill up quickly.
Build your dedicated team
with Mindy Support
2k+ specialists

8 years of experience

5-star rating on Clutch

ISO certified