Data Annotation Solutions
for IT Services
Empowering IT development teams to create
top-quality software through data annotation.
Build me a team
Make Sure You Have the Highest Quality Dataset for Your Project
High-quality training data is one of the most important aspects of any AI and machine learning project because it directly impacts the accuracy and reliability of the software you create. If you use inaccurate, incomplete, or biased training data, the tool you will create will provide your customers with incorrect predictions and forecasts, which can lead not only to loss of revenue but also damage the reputation of your company.
Mindy Support can help you accurately annotate your data to help you meet tight schedules and deadlines and increase the overall quality of your product. Our data annotation teams have extensive experience with a wide variety of tools and annotation techniques to make sure all the work is done right the first time.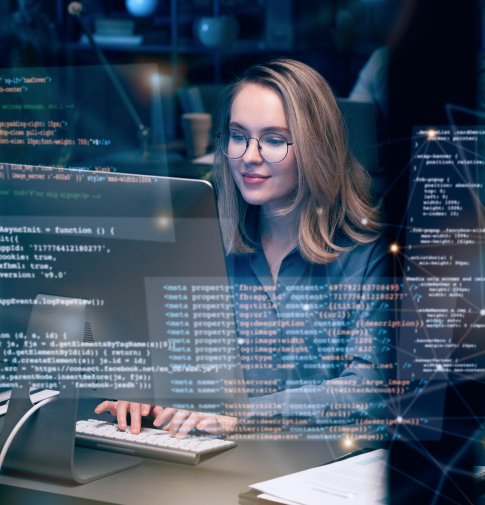 World-class niche expertise in IT Services
Image & Video Annotation

Take advantage of your image and video annotation services to input data into your computer vision and machine learning software. Our qualified specialists can help you train your model and build industry-leading software.

Text Labeling & OCR

Our data annotators can help you label documents and PDFs bounding boxes, segmentation, polygons, text transcription, and a lot more. Our comprehensive services allow us to deliver the highest quality datasets to meet the exact needs of our clients.

Sound recognition & speech transcription

If your project requires creating accurate records of conversations, tracking and transcribing speeches, and similar use cases, then our sound recognition and speech transcription can help you meet your goals.

2D and 3D Point Cloud Data Annotation

High-quality 2D and 3D Point Cloud annotation can help your AI and ML tools improve object recognition, tracking, and scene understanding. We take the time to meticulously label each point with attributes such as object class, size, shape, orientation, and position.

Focus your attention solely on developing your product or other mission critical tasks. We will take care of your data annotation needs in agriculture. We will provide a service tailored to your specific needs. We carefully analyze your requirements and provide precise quality so you could create the most accurate algorithms for your solutions.
Build Me a Team
We have a minimum threshold for starting any new project, which is 735 productive man-hours a month (equivalent to 5 graphic annotators working on the task monthly).