Creating "Ground Truth"
for AI in Agriculture
Augment your AI and ML algorithms with high-
quality data annotation
Build me a team

Get better quality datasets for agriculture
The latest technological advances in the agricultural industry have been made thanks to artificial intelligence which is now paving the way for new and improved methods of crop cultivation and farming activities.
All of the geospatial data, maps and even aerial images from drones can provide farmers with valuable insights on the condition of their crops in real-time and take the necessary steps to improve the situation.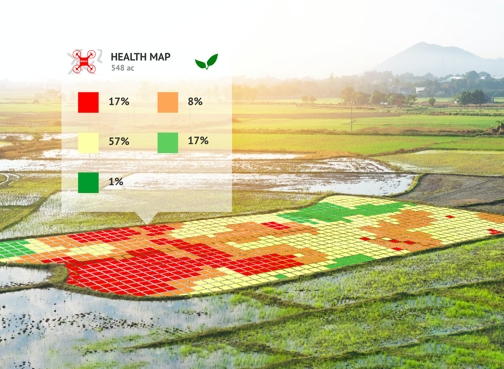 Better performance of your AI solutions with Mindy Support
Crop Monitoring

It will be an easier task with crop monitoring for farmers using modern AI-based solutions. At Mindy Support, we help prepare high-quality ground truth for crop monitoring solutions. We help facilitate real-time crop vegetation index monitoring via spectral analysis of high-resolution satellite images. Track the positive and negative dynamics of crop develop

Crop Detection

Perception models can ease the task of crop detection. We differentiate crops and weeds and label using bounding boxes to process quality training data. We will help you prepare high-quality training data so you could get better results and improve AI algorithms. We label even the most sizeable dataset to help you train the model to identify crops with great

Robotics in Farming

We help robots to identify everything that is around them. We can label all of the objects you would like the robot to detect up to the most precise details.

3D Mapping – Aerial Imagery

We can help you achieve the best possible yields by monitoring plant health or field conditions, with planting & seeding, spray application, and drone pollination. We annotate the data, gathered by drones on farms.

Seed Selection

Achieve faster and more sustainable results using AI solutions for seed breeding and production cycles. We will annotate data to help you identify the genetic traits of seeds and crops based on phenotypic features.

Growth Monitoring

We can help you annotate images to train ML models to detect how wel plants are growing. Even if you need a minute level of detail, we can annotate everything in accordance with your requirements.

Livestock Management

We help to create AI-based automated systems to track animals and manage livestock. We provide data annotation for sickness detection and health monitoring, abnormal behavior detection, feeding, and intake rates tracking, lying detection and movement enabling detection, herd count in the field, among others.

Focus your attention solely on developing your product or other mission critical tasks. We will take care of your data annotation needs in agriculture. We will provide a service tailored to your specific needs. We carefully analyze your requirements and provide precise quality so you could create the most accurate algorithms for your solutions.

Build Me a Team