Staffing and Recruiting
We Support Innovation And Growth In The Staffing And Recruiting Industry.
Build me a team

Expertise, skill sets, and delivery models required to drive your success

Our experience and application of world-class processes for attracting and retaining the absolute best talent help us deliver high-quality services in data annotation, customer support, back-office support, technical support, and sales & marketing assistance for the Staffing and Recruiting Industry. Optimize your business by partnering with Mindy Support.

Outsource your HR and Recruiting processes

While you focus your efforts on improving your business strategies, we will help you stand out from the competition by providing outstanding back-office assistance. Improve your business efficiency with effective recruitment processes.

Kickstart positive changes by outsourcing back-office tasks

Many business practices can be conducted remotely nowadays. Consider outsourcing your Staffing and Recruiting to reduce business costs. We have extensive expertise and a unique quality control system to deliver results quickly and cost-effectively. Your offshore team will perform just like your in-house staff.

Virtual assistants
Administrative assistance
Background screening
Performance management
Recruiting Assistants
Online Interviews

Outsource your data annotation to stay ahead of the competition

Artificial Intelligence and Machine Learning are shaping the Staffing And Recruiting industry. We offer text annotation, speech recognition, video, image annotation, and other data annotation services to help you create innovative solutions to better screen and schedule interviews, predict matching and redeployment, and craft great job postings.
Benefits of Outsourcing with Mindy Support
Mindy Support is a trusted BPO partner, chosen by several GAFAM and Fortune 500 companies. It is also one of the largest BPO providers in Eastern Europe. Our size and location allow us to quickly source and recruit highly qualified candidates. While we can rapidly scale your team, we do not sacrifice the quality of the work performed, as we have rigorous QA processes. We make certain our clients get the best quality-price combination on the market. Through our proven history of successful work with the Staffing and Recruiting industry, Mindy Support provides a variety of services to precisely meet the client's needs.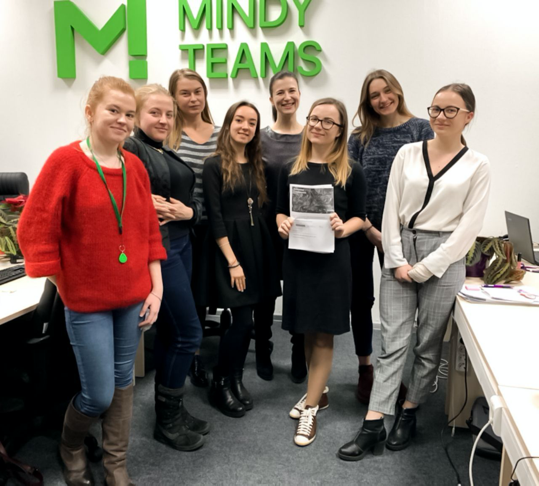 Let us put together a tailor-made team based on your needs
We have a minimum threshold for starting any new project, which is 735 productive man-hours a month (equivalent to 5 graphic annotators working on the task monthly).