46% of Executives Project Their Contact Center to Grow in the Next Year: Are You Ready?
As a result of the recent lockdown, online retail sales have grown significantly and businesses are having a hard time keeping up with customer care. The latest data shows that in May of this year, the value of internet sales as a percentage of total retail sales was 32.8% which is almost double the percentage we saw last May. Back then it was 18.8%. As more customers are visiting the online stores, the amount of inquiries is increasing as well that's why 46% of global contact center executives expect their contact centers to grow anywhere from 5-10% within the next year.
The rise in online sales is causing a lot of bottlenecks in customer service and companies are not keeping up. Let's take a look at the state of customer service today.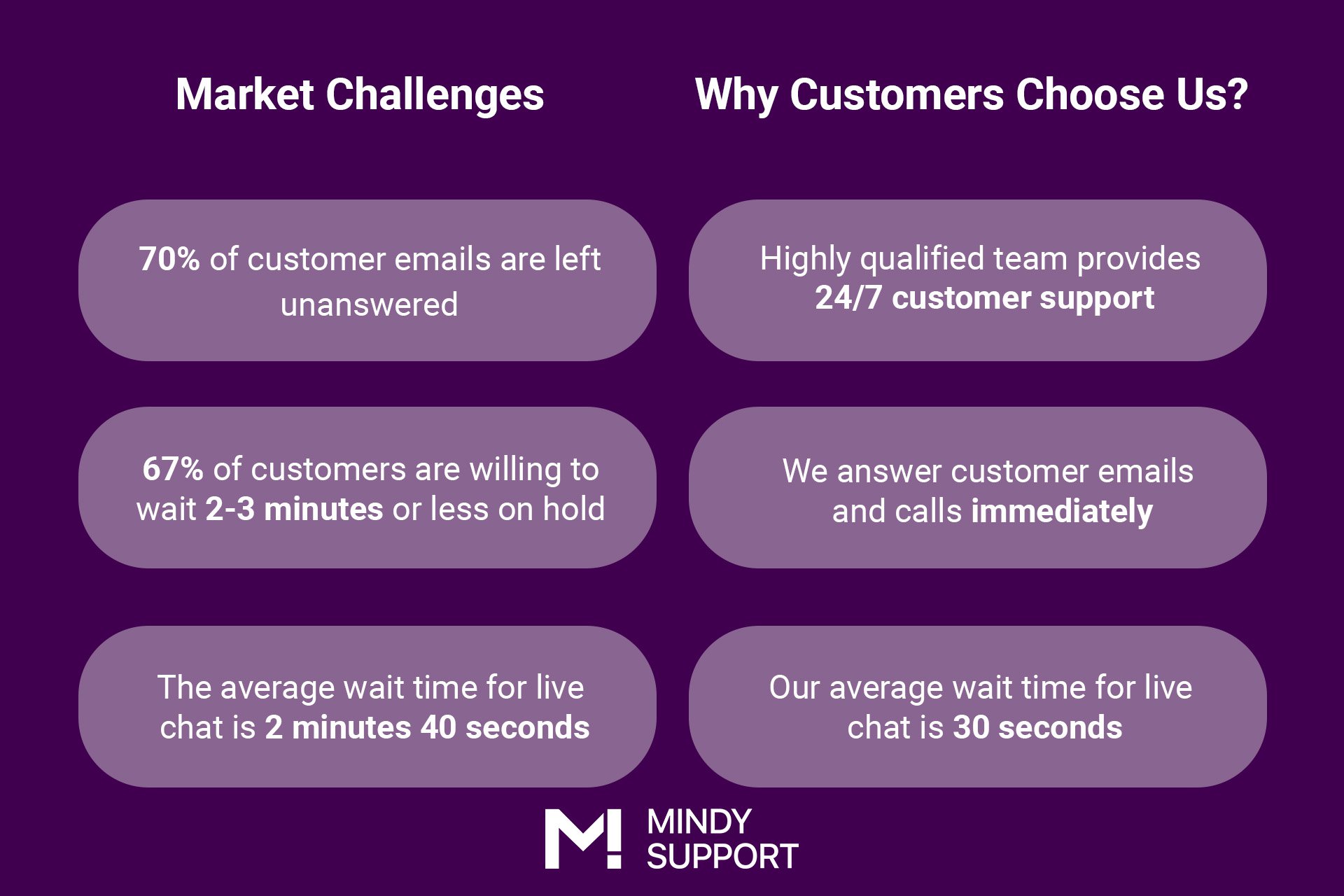 70% of Customer Emails are Left Unanswered
While a lot of companies have a dedicated email inbox just for customer inquiries, 70% of those emails will not be answered. If you are one of the lucky people who do receive a reply, the average response time is 36 hours. With such a slow response time, you might have better luck with plain old snail mail. Even though emails themselves may seem old-fashioned given the rise of instant messaging apps, 65% of customers still prefer email as their main communication channel, according to the 2019 State of Conversational Marketing report. Since so many people are still writing emails, companies have no choice but to start going through their inboxes and answering them one by one.
If you simply do not have the human resources available to answer all of the emails, consider hiring an outsourcing customer support team to help you. In fact, you can start out with a small team just to see how things go and scale later on if you like what you see.
67% of Customers are Willing to Wait 2-3 Minutes or Less on Hold
We all had an unpleasant experience of calling customer service only to be put on hold for an extended period of time. Recent research shows that 67% of customers are only willing to wait 2-3 minutes on hold, with 13% finding any wait time to be unacceptable altogether. This is one of the reasons that 69% of consumers prefer chatbots for quick communication. It's easy to see why chatbots are so popular. They are available 24/7, can retrieve information very quickly, never get tired, and many other benefits. Still, they have their drawbacks, which is why customers still like to talk with an actual person.
Hiring an offshore customer service team can help you here as well. They will be able to cover all of the necessary time zones and offer multi-language support. You can use the same criteria to hire the outsourced team as you do with in-house employees. Even though your team will be located in another country, they will serve as an extension of the team you have on staff.
The Average Wait Time for Live Chat is 2 Minutes 40 Seconds
Even though we use the term "live chat", you will still have to wait 2 minutes 40 seconds for a company to acknowledge a live chat. That's about the same wait time as calling support. One of the reasons for this is that companies are experiencing the same issues with live chat that they had with phone support, which is simply not enough people to handle all of the inquiries. Also, a lot of companies are offering live chat support only during business hours, even though online shopping is available 24/7 from any part of the globe. Hiring a dedicated team to handle all of the live chat requests will allow you to increase customer satisfaction and retention and give you an edge over the competition.
Mindy Support is Ready to Help Companies Boost Their Customer Service
If you are looking to scale your current customer support team, consider hiring Mindy Support to do all of the work for you. We are the largest BPO provider in Ukraine and one of the biggest in all of Eastern Europe. With six locations across Ukraine and more than 2,000 employees, we will be able to assemble even the most sizable team in a short time frame to help you provide a superior level of service. You will always have complete control over the size of your team and can scale up or down whenever you need.
Posted by Il'ya Dudkin
Talk to our experts about your AI/ML project
Contact us